"Beware the barrenness of a busy life." When Socrates said this, I doubt he was talking about my dinner table, but he might as well have been. When I get too busy with work or home projects or whatever fills my days, sometimes the dinner table takes on a barren, forlorn look, as though nothing of value will appear there -- a mere baked potato, pasta with sauce from a jar, or take-out. I can only take so much of this, however, before I crave "real" food.
Recently I've been busy moving furniture, painting, patching, ripping out carpet, and more painting. After a while, though, a girl needs a good meal to keep her going. So the other day I got the urge for Chicken Palaw, a recipe I copied out of
Country Living
magazine many years ago. (Maybe I was inspired to cook this by those viewings of
The Best Exotic Marigold Hotel
, who knows?) As you can tell from the name, it's Indian influenced, but not really authentic Indian fare. Still, it's quite flavorful and a change of pace for a weeknight dinner.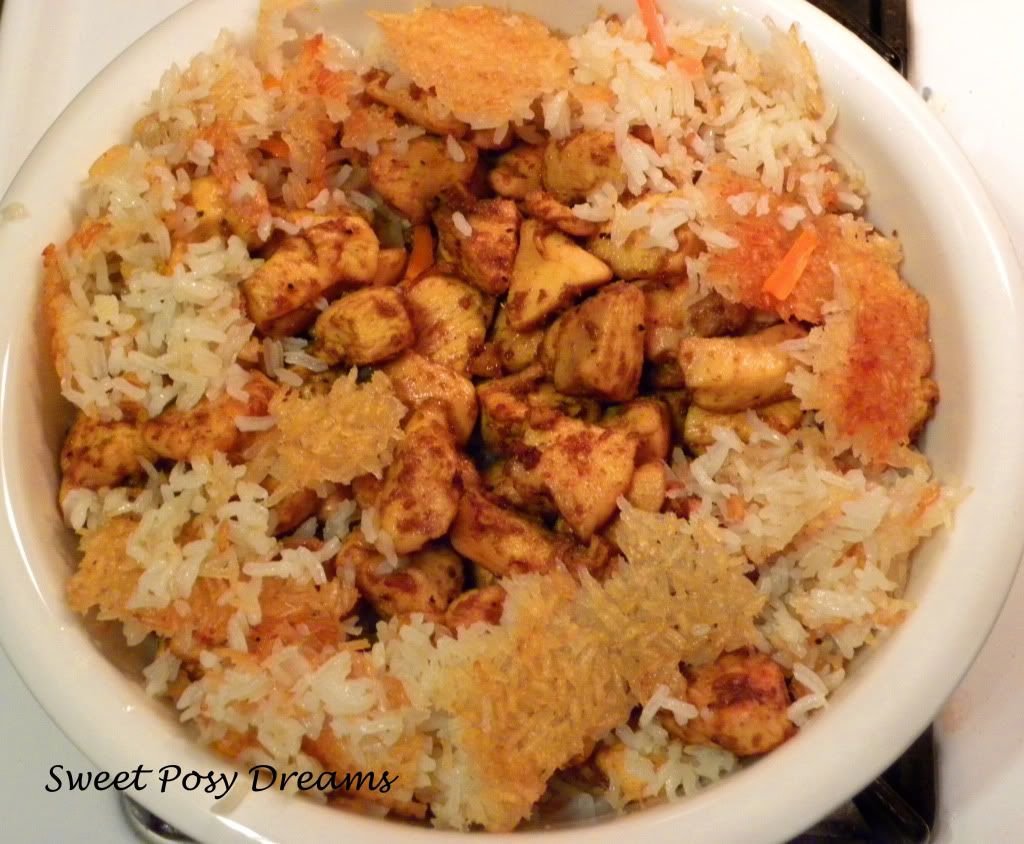 Chicken Palaw
From Country Living magazine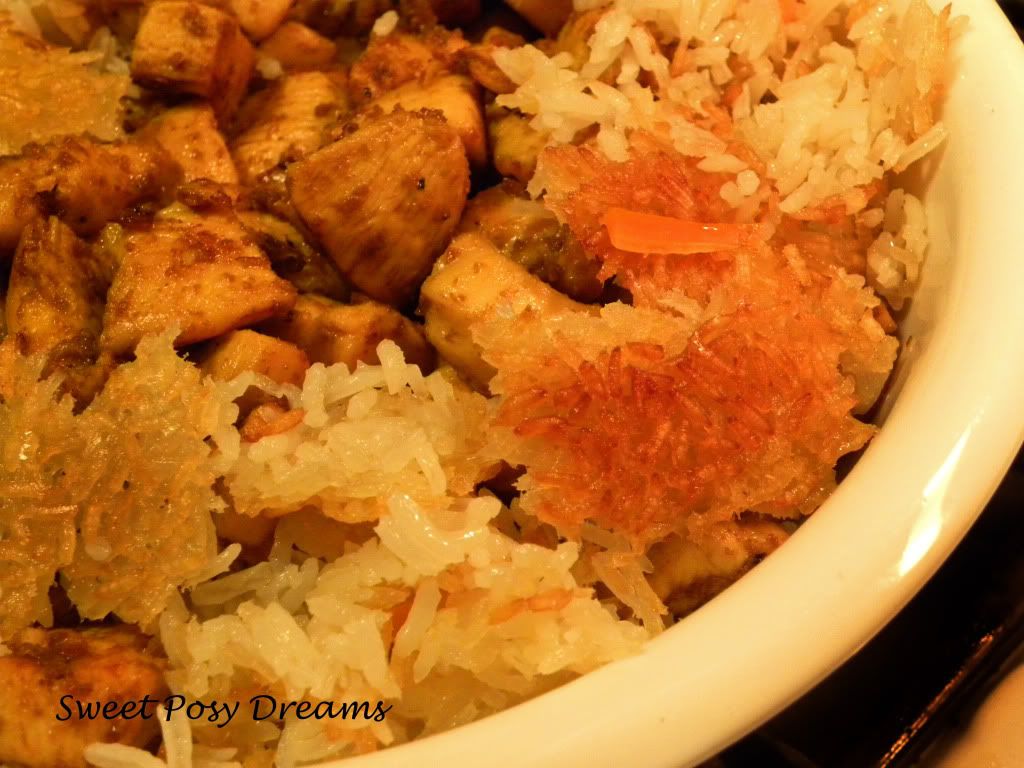 1 1/4 cups basmati rice
1 1/2 teaspoons salt
1/4 cup butter
3 tablespoons olive oil
2 large carrots, cut in 1/8-inch julienne strips
2 whole boneless chicken breasts, cut in 2-inch chunks
1/4 cup apple juice
1 tablespoon curry powder
1/4 teaspoon ground coriander
1/4 teaspoon ground cumin
2 tablespoons raisins
2 tablespoons pistachios
2 tablespoons sliced almonds
In heavy 5-quart stock pot, heat 2 quarts water to boiling over high heat. Stir in rice and 1 teaspoon salt. Return to boiling and cook, uncovered, 10 minutes. Drain rice.
In same pan, melt butter with 2 tablespoons olive oil over low heat. Spoon half of the rice into pan and press down with back of spoon to make a firm layer that covers the bottom of the pan. Spoon remaining rice loosely on top, then top this with carrot strips. Cover top of pan with linen towel and a tight lid. Cook 35-40 minutes or until bottom layer forms a crisp, golden crust.
Meanwhile, in large skillet, sauté chicken in remaining 1 tablespoon olive oil over medium heat until golden on all sides. Add apple juice, spices, and ½ teaspoon salt. Stir until chicken is coated with spices. Cook, stirring frequently, until chicken is cooked through and liquid is evaporated, about 5 minutes.
To serve, in large bowl, combine steamed part of rice/carrots with raisins and nuts and toss to blend. Top with chicken mixture. Break bottom rice crust into pieces and place around the edge.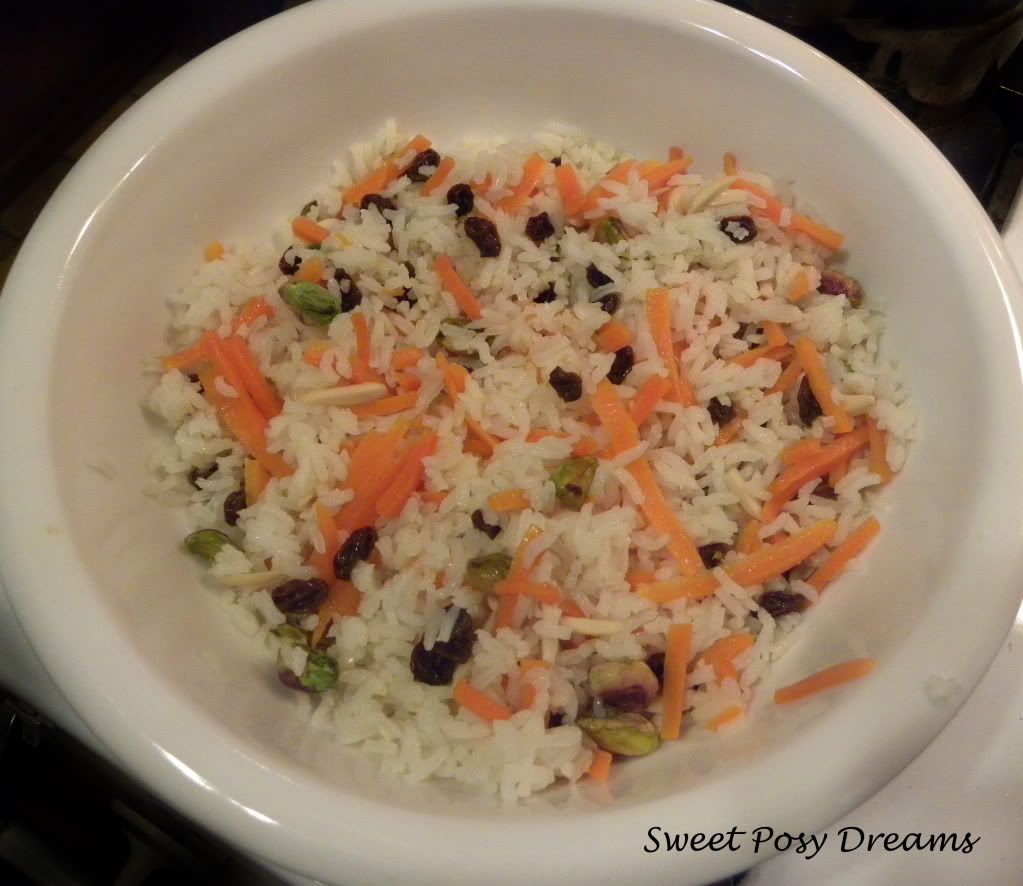 The rice base before adding the chicken -- rice and carrots tossed with pistachios, slivered almonds, and raisins.