Once upon a time, I was a Christmas decorator at a local house museum. It was then that I began making Christmas decorations. A good friend was my decorating partner, and we had some crazy ideas. Being co-chairs of the event, we even got to foist our crazy ideas onto the other decorators because we chose the themes. One year was jewel tones. One year we insisted on all blue and silver. There was some grumbling from decorators that it was more Hanukkah than Christmas, but the house was unique and sparkly. Another year, we chose a prairie theme. Now
that
was unique! We pulled an enormous dead evergreen wreath out of my garage and hung it in the rotunda. All the needles were still on it and they had turned a marvelous copper color. We put sheaves of wheat in the windows and tied dried cockscombs to the staircase. A flower shop created a tree from corn husks for the library, as I remember. The house was wild. Visitors either loved it or hated it I guess, but they'd certainly never seen anything like it.
Anyway, being cheap and creative -- as an artist, she is much more more creative than I -- we made a lot of our decorations. The rooms in the mansion are large with very high ceilings. What we soon realized, is that large rooms eat your decorations up. Something that looks huge at home looks puny at the museum. So we made do. One year we decorated the maid's room with food. (I've forgotten what the theme was that year.) We made cinnamon cookies that we loaded with lots of extra cinnamon for smell, and then decorated with glitter. Not edible glitter, just glitter. We also made gumdrop trees. My daughter was especially fond of those gumdrop trees, so we used them at home the following year or so until they looked mangy, and later made new ones. This year I found a few old gumdrop trees in the attic. I don't know how old they are, but they are well past their prime. Some of the gumdrops were falling off and the color was a little weird too. But instead of throwing them away, I decided to "frost" them.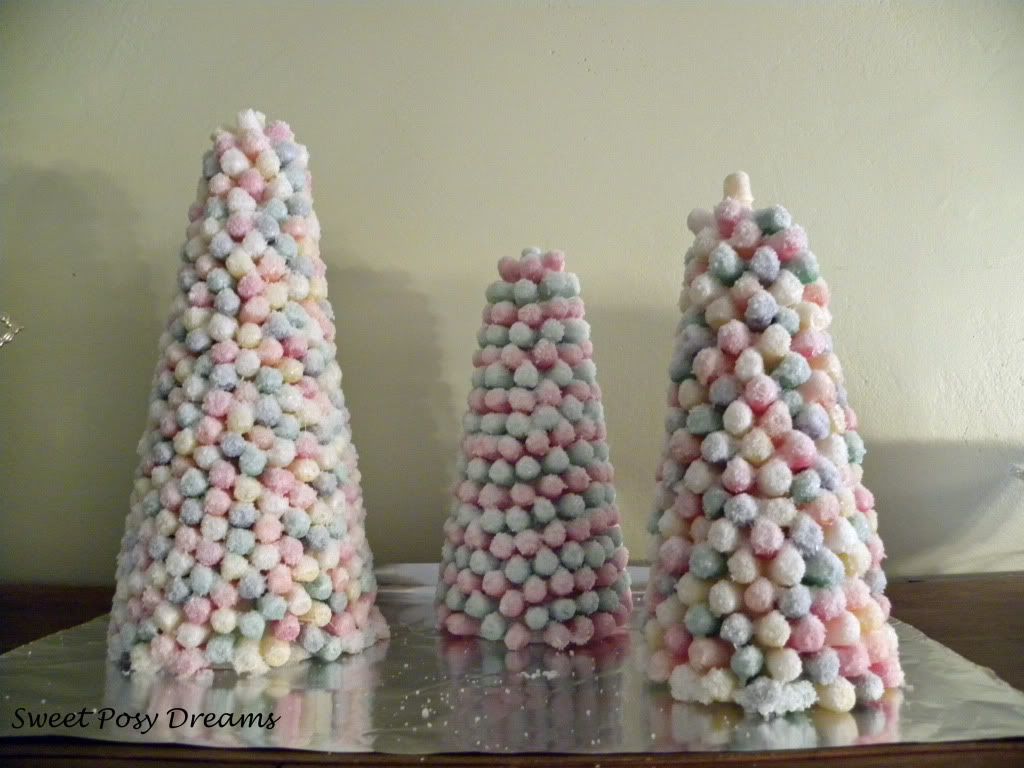 Awaiting their finishing touches of fresh greenery.
I am using a lot of white in our dining room this year, which started with the
coffee filter wreath
I showed you last week. I completed the buffet under the mirror with white Dresden angels my mother passed down to me this year, crystal candle holders with white candles, and a white poinsettia. I had the idea that I wanted some white trees on top of the hutch on the other side of the room, and here were these old gumdrop trees. First I gave them a lightish coat of white spray paint. Spray paint doesn't cover gumdrops all that well, but I wanted some of the original color to show through, so that was okay. Then I saw
Nici at Posed Perfection's
blog post about using Epsom salt to frost pine cones. Brilliant! I picked up three pounds of Epsom salt at Walgreen's for less than four dollars. That's some cheap craft supplies! I slapped Mod Podge on the gumdrop trees and coated them in Epsom salt. I like the way they turned out. I won't be able to save them, but that's okay, they were due for the trash anyhow.
Another little touch of white is my farm animal collection. I made some of these last year after seeing them on
Viva Revival
, a great blog by Michelle, a jewelry designer and all-around creative gal. I made a couple more this year because my little barnyard needed to grow. Check out
Viva Revival
for the how to's.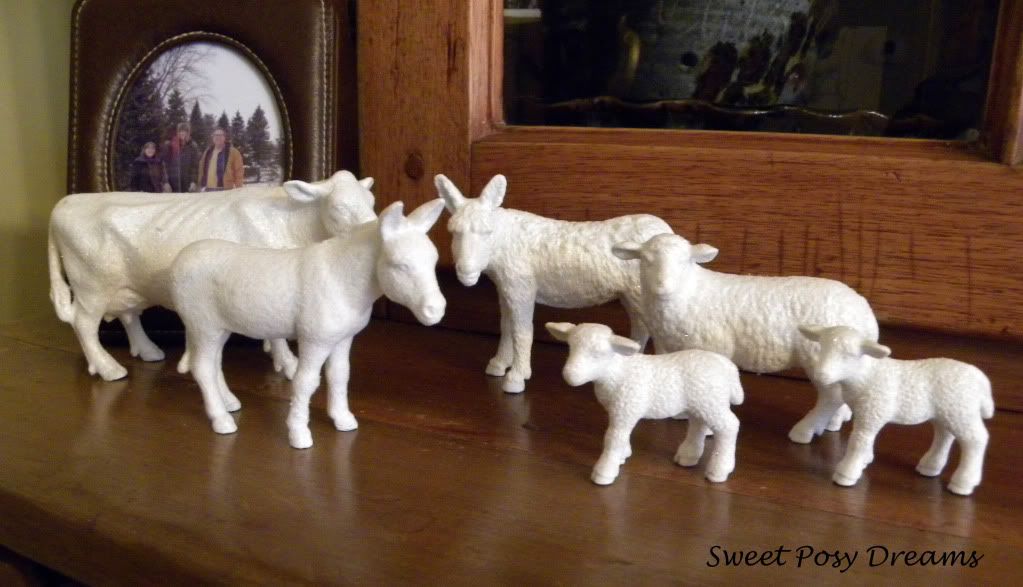 The lighting isn't good, so you can't see that they are sparkly.
The last item is a picket fence we use to keep Alfie from bumping into the
food tree
. The husband made this from inexpensive wooden garden fencing. We also have a single panel that he put "feet" on that we use to keep Alf out of the living room. It's much cuter than the old baby gate we used to use!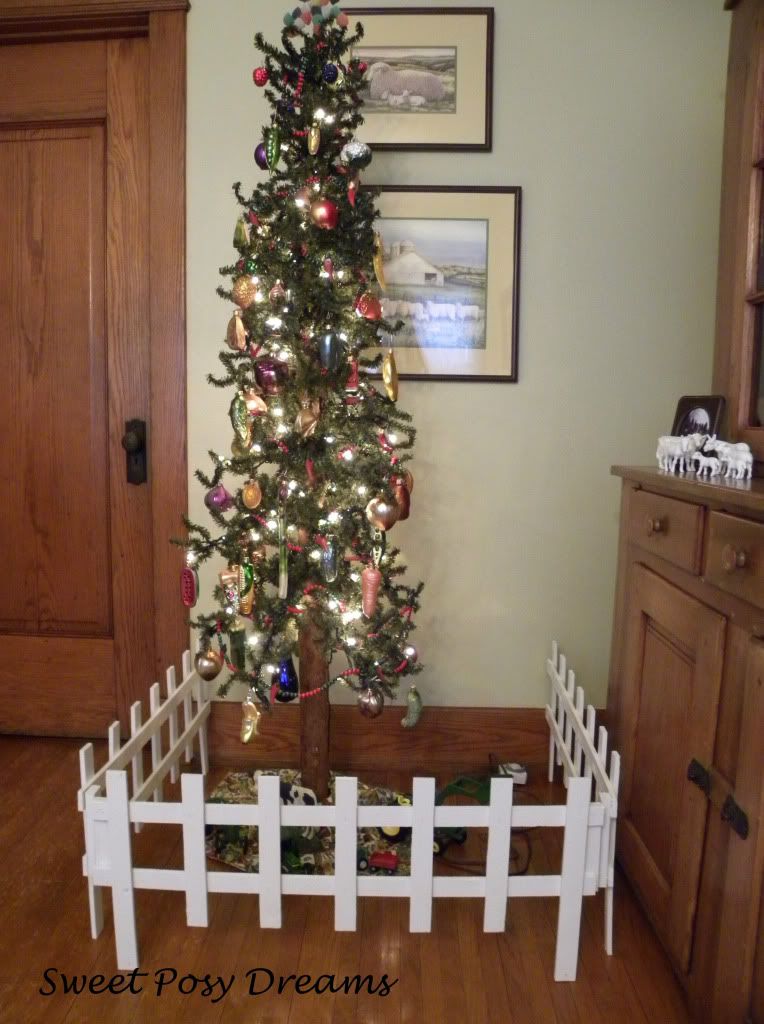 I can see that I need to center the tree a little better in the fence.